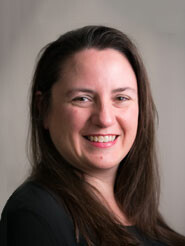 Barbara Dunlap
Associate Minister of Discipleship & Outreach
Rev. Barbara Dunlap first joined our staff as a ministry intern in 2017 and is thrilled to now be completing her residency here. Barbara graduated from Brite Divinity School in 2018 with a Master of Arts in Theology and Ministry. She was commissioned as a Provisional Deacon in 2018.
She is passionate about ministry with women and girls, particularly regarding reproductive and maternal health. She is also a self-proclaimed "Methonerd" and loves teaching Methodist history, doctrine, and polity. Her ministry models are the nuns and nurse-midwives from Call the Midwife and Molly Weasley from the Harry Potter books.
Barbara has been married to Brian since 2001, and they have three wonderful children. In her previous life, Barbara was a stay-at-home mother, and, before that, she worked for the federal government. Barbara has a B.S. in Advertising/Public Relations from Texas Christian University.
In her free time, Barbara enjoys reading, watching Food Network and sitcoms, creating playlists on Spotify, and singing musical theatre songs at the top of her lungs in the car (especially while driving her children to school).